Thanks for spending the year with SOJOURN!
We're so grateful that you've been a part of SOJOURN in 2022. Thanks to you, we've been able to accomplish some amazing things for our Jewish communities, LGBTQ+ communities, and Southern communities. Let's take a look!
Thrive
In April 2022, we launched Thrive, a national coalition in collaboration with Keshet to advocate for trans and LGBQ+ youth as they face legislative threats at the state level. 176 Jewish organizations from across the country have signed on to Thrive, and we've been meeting since June on topics like op/ed writing, Judaism and transness, and how to read and track legislation.
Pride Outside
In June 2022, we were able to hold Pride Outside, our first in-person gathering in 2 years! We gathered in Atlanta for a musical celebration of our Jewish and LGBTQ+ communities. We were happy to see so many familiar faces there!
Houston
This September, SOJOURN came to Houston, TX for the first time! Our amazing program manager McKenzie spent a weekend teaching at Congregation Or Ami, leading a non-binary Hebrew Havdalah with QJews Houston (shown here), and conducting a training for the board of Houston Hillel. We'll be bringing more SOJOURN programming to the Bayou City soon!
Jewish Equity Benchmark
Thanks to a grant from Atlanta Pride, we were able to successfully pilot our Jewish Equity Benchmark survey, asking Jewish organizations in Atlanta about their current LGBTQ+ inclusion and belonging practices. We got a 39.3% response rate and reached at least 5,900 community members. We're excited to take what we learned from the pilot and launch the JEB again at a larger scale in 2023!
Atlanta Pride
For the first time in 3 years, we had Atlanta Pride in person! We celebrated Pride Shabbat with the Jewish Federation of Atlanta, met so many new people at our Pride Festival booth, and took to the streets in our Xanadu-themed float during the Pride Parade. It was wonderful to be surrounded by so much joy again!
Quest Ed
In October, SOJOURN launched Quest Ed, our unapologetically queer, Jewish, Dungeons and Dragons Actual Play podcast that walks through the Sex Ed Queeries sex ed curriculum. So far, Quest Ed has reached over 250 people, and the podcast's reach is still growing! Stay tuned for more episodes coming in 2023.
SOJOURN accomplished so much in 2022, and we're even more excited for 2023. In particular, we're happy to announce that Purim Off Ponce, our signature fundraiser, will be back in person on March 11, 2023! 
Thank you so much for being a part of the SOJOURN family this year. We are so grateful for you. Here's to a wonderful year ahead!
We are your home on the journey to full inclusion.
The Southern Jewish Resource Network for Gender & Sexual Diversity (SOJOURN) is the American South's resource for Jewish & LGBTQ+ programming, education, support, and advocacy. Our mission is to empower communities to advance and celebrate gender and sexual diversity across the South.
EDUCATION
Changing the landscape of inclusion through education.
SOJOURN is proud to offer a variety of educational activities and experiences. Our workshops focus on giving students, teachers, and communities the tools to be welcoming for gender and sexually diverse people, Judaic learning, and suicide prevention. Each of our workshops is customized for your individual group, needs, and time commitment.
Read More
OUTREACH
Building inclusive communities through public outreach.
SOJOURN builds inclusive communities by coordinating the Jewish community's participation in Atlanta's annual Pride event, bringing in highly acclaimed speakers, and publishing the LGBTQ Guide to Jewish Atlanta.
Read More
ADVOCACY
Seeking to eliminate discrimination through advocacy.
SOJOURN seeks to eliminate gender inequity and discriminatory legislation through advocacy efforts in the South. Thanks in part to our efforts, Atlanta's Jewish community has been a potent voice in conversations against discrimination, and not a single local rabbi has spoken in support of religious liberty bills.
Read More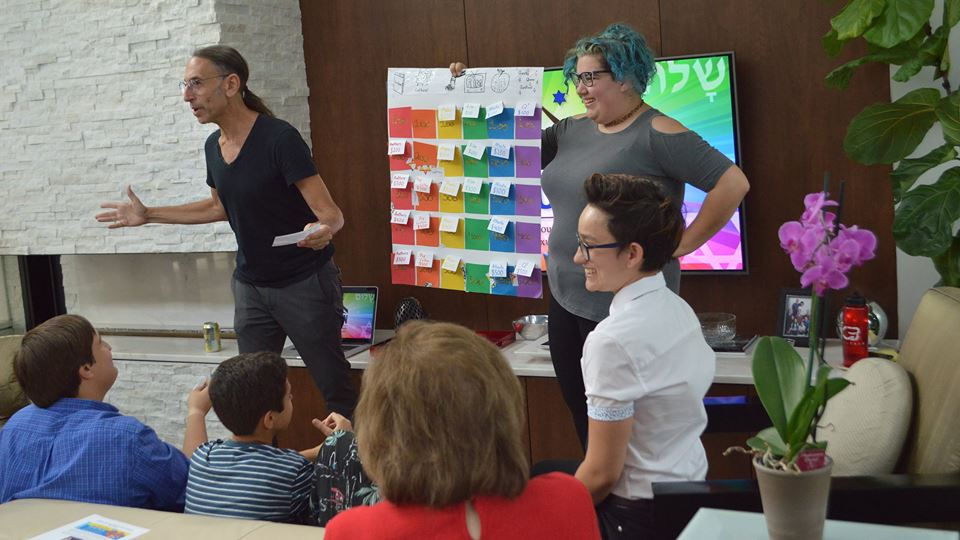 SUPPORT
Providing support for the LGBTQ+ community.
SOJOURN provides resources for LGBTQ people and their families through a wide variety of community programming and direct support. Programs include monthly teen programs, information and referral services, and a Comprehensive Sex Education Program. We also facilitate anti-bullying training, inclusivity audits, Pride celebrations, and direct support for the Atlanta LGBTQ community.
Read More